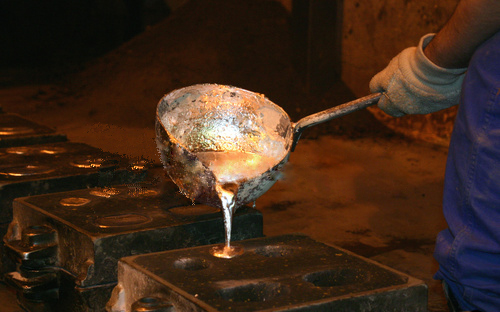 The main risk to be faced by an operator in an aluminum foundry are molten metal splashes since due to the low melting temperature of aluminum adheres easily to any fabric that are made suits personal protective equipment (PPE).
At other risk mentioned, workers in this sector are exposed during their working day to other risks such as thermal stress, burns, low visibility, arc flash… Then we define each of these risks to determine which properties are requiring a good PPE to provide the best safety to the worker.
Fire and heat: Because of the large amount of fire itself derived from aluminum smelting combustions are very common in this industry and therefore attire operator can easily burn.
Radiant heat: This is another of the main risks of this sector. Both work in front of the electrolytic cells and other tasks to be developed by the operator, this person is in continuous exposure to heat from the molten throughout their workday aluminum.
Poor visibility: Aluminum smelters are dark and monochromatic places where accidents can occur by accident by the continuous movement of trucks and road traffic.
Convective heat: In principle, this risk is not one of the principal that aluminum smelter workers must face, because in no case the worker should come into direct contact with flames face, but it must take into account when to define preventive actions.
Welding and electric arc flash: a aluminum plant cast, not only work the workers who melt and move the metal, but maintenance facilities workers are also exposed to the risks of the sector and derivatives their duties maintenance such as risks in welding and arc flash…
After evaluating the risks of this sector, it is imperative to choose a good workwear made of inherently flame retardant fabric, repels splashes of molten aluminum while minimizing heat transfer preventing burn fabric and, of course, the burns. To others, it is very important the combination of various colors in the making of costumes to facilitate operator visibility and even the use of high visibility tapes, as long as they protect against the splash of molten metal according to regulations. Many types of flame retardant fabric on the market, but not always react well to fibers metal splash. FR viscose and wool (untreated) form a fire retardant mixture with good repellency molten aluminum.
And last but not least, is the making of the suit, when it must be take into account the pocket flaps and design avoid all barriers that may hinder the sliding of molten metal in case of accident.