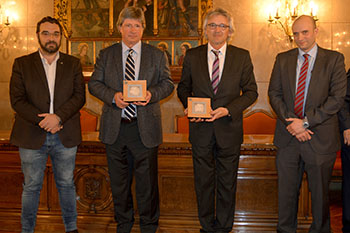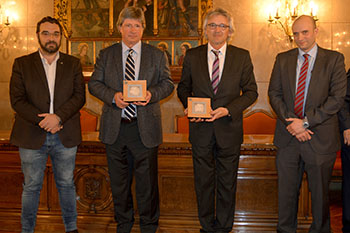 On the occasion of the celebration of the festival of Sant Sebastià in Sabadell (Spain) the Gremi de Fabricants de Sabadell awarded the first prizes "Floc de Llana 2015".
Marina Textil was awarded with this award, in the category of BUSINESS MERIT WITHIN THE FRAMEWORK TEXTILE SECTOR, by business career and product innovation and picked up the first our CEO Joan Ginestà.
The ceremony award, held at the same Gremi of Fabricants of Sabadell, it was attended by: President of the Fundació Parc Tauli ( FTP), Francesc Gòdia, the president of the Sanitary Corporació Parc Tauli, Modesto Custodio, CEO, Joan Martí, director of Gestió de l'FTP, Glòria Palomar, President of the scientific Committee of l'Institut d'investigació i Parc Taulí Innovation (I3PT), Joan Seoane; and the former mayor of the Barcelona city council, Jordi Hereu.
In the category of MERIT FOR THE WORK DEVELOPED in the social, economic or cultural field, the "Floc de llana" prize was awarded to the INSTITUT DE RECERCA I INNOVACIÓ PARC TAULÍ.