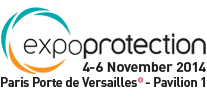 Marina Textil will attend in the next edition of Expoprotection 2014 tradefair, hold in Paris. This tradeshow is caracterized by being one of the most important meeting points in Europe to gather all the main brand relateds with the manufacturing of PPE and organitzations relateds with safety world.
This year, the Expoprotection 2014 show will celebrate its 25th edition, offerin to the visitors more than 100 technical speechs, with 650 expositors already confirmed and with the forecast of more than 30.000 visitors.
Marina Textil will stand in the fair as a visitors, to hold meetings with French and International PPE companies.
If you want more information realted with the fair, you can visit the official webpage: Expoprotection