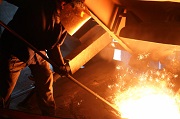 MARLAN PLUS is the evolution of our MARLAN adapted to the current needs of Molten Metal industry.
In his development, the cellulosic fibers have been introduced at the blend yarn to enhance regulation of body moisture, and confer comfort properties to the fabric.
These fibers are derived from wood eucalyptus, organically manipulated without the use of chemicals. It is a biodegradable fiber, with properties of moisture and thermal regulations and bacteria proliferation limited.
It has a wide scope, from current underwear, sportswear, functional wear, home textiles, cosmetics till reaching protective work wear fields.
Thanks to this new combination, this protective fabric with natural fibers with high absorbency and moisture management, canicular section and high nitrogen content, MARLAN PLUS combines the best protection against a variety of risks from fire and heat with unmatched comfort to use.