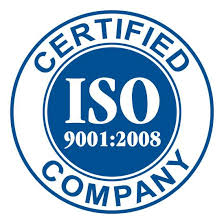 ISO 9001:2008 contains requirements model quality management (QMS) as established by the International Organization for Standardization.
It is a comprehensive reference tool established worldwide and is used for internal application for its easy adaptation to any type of organization. Depending on the country, may be referred to the same standard "ISO 9001" differently adding the name of the body that represents it within the country. UNE-EN-ISO 9001:2008 (Spain), IRAM-ISO 9001:2008, etc. accompanied by the year of last update of the standard.
The objective of applying the ISO 9001:2008 in a company or organization is to improve the management of all areas of a company, optimizing the entire production, administrative and executive process.
For Marina Textil quality is very important, not only the product, but also the overall business. For this reason, since 2010 we are certified according to ISO 9001:2008 which seek to ensure the quality management in all departments of the company (I+D+i, Retail, Logistics, Management, Manufacturing…).
Last year the company renewed the ISO 9001:2008 certificate in March of this year we did the audit relevant monitoring to ensure that all procedures in the areas marked on our map of processes are adequately met.
The requirement Marina Textil for quality is high and we work for continuous improvement.
Our main objective is that the customer is satisfied with our product and our services in general and the key to our success is that everyone in the company have clear the required level of quality and work to fulfill it.