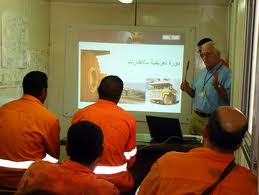 Why – When – How – to do a Safety Training of PPE
Important is To make sure anyone using PPE is aware of why it is needed, when to use, repair or replace it, and how to report it if there is a fault and its limitations.
To whom
To do a Safety Training of PPE properly and make sure they are doing this. Include managers and supervisors in the training, they may not need to use the equipment personally, but they do need to ensure their staff are using it correctly.
A Tip of advice:
It is important that users wear PPE all the time they are exposed to the risk. Never allow exemptions for those jobs which take 'just a few minutes'.
Check & signalization
Check regularly that PPE is being used and investigate incidents where it is not. Safety signs can be useful reminders to wear PPE, make sure that staff understand these signs, what they mean and where they can get equipment (eg.: for visitors or contractors).