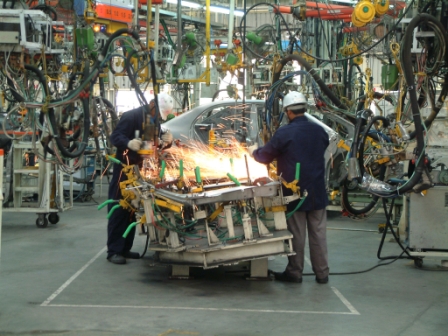 In all metal bonding, welding or cutting techniques, in which any of them must be performed by staff, is extremely important be properly protected with technical protective fabrics against various risks such as, convective heat, molten metal splashes, as well as, radiant heat that is produced by the bond or welding of metals. We also have to take into account the ultraviolet radiation which affects eyes and skin.
In these techniques there are processes in which fabrics must fulfill certain functions. The most appropriate, is to combine whole protection in one fabric as these collective commonly and periodically, used in this sector all kinds of cutting, bonding or another related work tools that could produce a risk for operator.
First, in the fabric it must exist an optimum thermal barrier and a resistance to molten metal impacts. Furthermore, the fabric should provide comfort that allows good portability for workers who performs these tasks.
For all these type of fabrics is essential, a sustained durability as well as a moderate cost which united with protection and comfort, is obtained a weighted average of all these factors that allow us to obtain the best solution.
Our company has develop during more than three years fabrics for welding techniques, that provide all this type of solutions and in addition, also in a wide variety of protection levels that exist in the different welding techniques of this demanding sector.
Nowadays, our range Marko Welding (Marko AT320SW and Marko AT395SW) are the most improved solutions for welders.