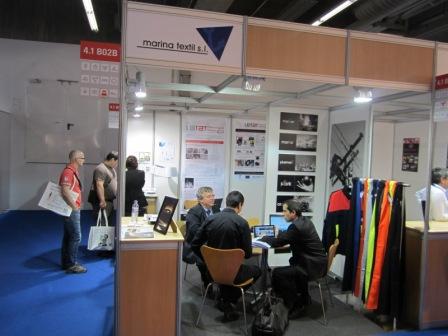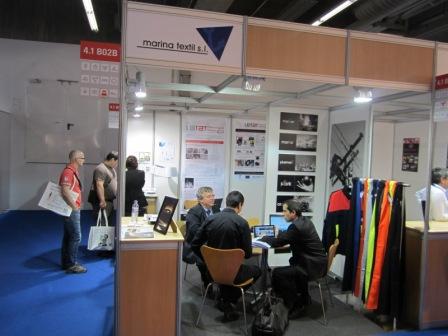 Technical fabrics innovative and customized for each sector were some of the messages shared at our booth Techtextil in Frankfurt (Germany), held on June 11-12-13.
Our evaluation of the Techtextil 2013 show is pretty good and successful, also for our visitors of various typologies (Distributors, Final Consumers, Suppliers and Garment manufacturers) and from different sectos (foundries, electric, oil and gas industries, and so on)
The evaluation of Techtextil 2013 organizers was very positive and indicated an increase in visitors compared to previous editions.
The worldwide launch technical news that we showed were the following ones:
Marlan plus, new evolution of protective fabric for molten metal splashes
Marko multinorm orange EN 471 fabric for multi-protection purposes ( electric , gas , utilities, petrochemical , and so on)
Plusmark mutinorm high resistance yellow EN 471, repeated washes proof test
Zinkmar, new evolution of protective fabric for molten zink splashes
Marko Welding , new development for heavy metal works, all type of welding techniques (MIG, TIG, Plasma, Automotive, Oxyacetylene, grinding, radial cutting, and so on)
NFPA & ASTM F1959 fabrics
And some more.
We hope that the show has met their expectations and take the opportunity to thank you for your visits to our booth.