PROTECTIVE FABRICS FOR FOREST FIREFIGHTERS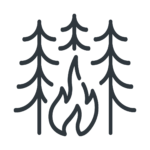 Very comfortable fireproof fabrics with high resistance values to mechanical traction and tears.
Within the firefighter group, fireghters may specialise as forest firefighters. The reference standard is ISO 15614, and the solutions proposed by Marina Textil are the ones that notably comply with fire performance, mechanical resistance and resistance to tear without ignoring comfort. This is a group with long days of forest fighting.
These are the fireproof fabrics that Marina Textil has developed for forest fireghters. Click on any of them to find out more about their specifications.
Estos son los tejidos ignífugos que Marina Textil ha desarrollado para bomberos forestales. Pulse sobre cualquiera de ellos para conocer sus especificaciones.