PROTECTIVE FABRICS FOR AUTOMOTIVES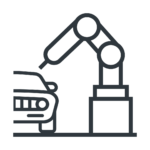 A multidisciplinary sector requires fabrics capable of protecting from several risks.
The automotive sector is multidisciplinary. Therefore, this is where a wider variety of labour risks arise. As a result, each case requires specific protection: smelting operations, cutting and welding operations, installing electronic components that are highly sensitive to electrostatic discharges, painting processes, etc.
This is an industrial sector that, given its volume and social value, must pay attention to the protection of its workers. Hence, the personnel must be duly equipped with the corresponding PPE.
Marina Textil works with the leading global vehicle manufacturers (PSA, VW, FIAT…), thus ensuring the safety of their workers.
These are the flame retardant fabrics that Marina Textil has developed for the automotive sector. Click on any of them to find out more about their specifications.