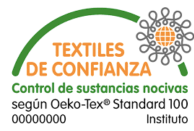 What is OEKO-TEX certificate?
OEKO-TEX certificate is the endorsement which confirms that the manufactured products, textiles in this case, are made of materials that are not harmful to the health of the person who uses them.
According to Aitex, the only Spanish accredited institute to grant this certificate, OEKO-TEX is in independent international association made up of 18 authorized institutes and present in 85 countries around the world. It also ensures the sustainability of the planet.
If we go further, we realize that the studies of these harmful products are more than 300 of some 17 groups of chemical products and the laboratory is responsible for analysing that the products certified under this standard are free of those substances.
The list of harmful products (REACH) is studied and expanded every year. As these studies discover evidences that there are products that are harmful, they're added to this list and the fabrics that can contain these substances, will have to be re-analysed to see if they are according to the established requirements or not to get the OEKO-TEX label again.
This certificate involves all the textile and leather industry, all textile dyes, fibers and products that can be used in any part of the process.
Marina Textil has all its products with the OEKO-TEX certificate and works with suppliers committed to developing a plan that allows us to do our bit to safeguard our planet. Programs for the reuse of waste, producing and using clean energy and an awareness of all its staff to work for the benefit of what we believe should be our new identity, people committed to the environment.